Schools Description
Seafield N.S. and Knockmahon N.S. are two small schools located close to each other in the proximity of the picturesque village of Bunmahon with a long history of involvement in the Cumann mBunscol.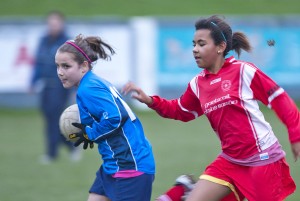 As there are a relatively small number of pupils enrolled in each school, we each faced a dif- ficulty in fielding teams for competitive matches. We joined forces in an effort to address this situation, and our pupils have enjoyed participating in Gaelic football, hurling and camogie competitions together. Our united team of '06/'07 went forward to win the U-13 Cumann na mBunscoil Roinn C Football final. Since then we have participated in numerous other football hurling and camo- gie finals.
Míchéal Harney is a past pupil of Knockmahon, and was a key figure in our U-13 team of aforementioned success. He has since come through the underage ranks, and has won Munster medals with the C.B.S. secondary school, Dun- garvan. Míchéal is now on the Waterford minor hurling team and has recently had the honour of representing his county in the 2011 Munster Final and scoring the winning goal in the 2011 Munster Semi-final.
Our schools maintain close links with our local G.A.A. clubs. For Seafield this is Stradbally Gaa Club, while Knockmahon are linked with the Bunmahon club. These local links are very valuable to promote and maintain in- terest in our national sports among our young students. Recently, our pupils in Seafield have enjoyed a visit from their local GAA heroes-members of the Stradbally Senior Football team- with the Conway Cup, which they won in 2010, when they became county football champions. Such experi- ences have been significantly influential.
Each school also benefits from the of the Waterford GAA coaches. This has served to make the sports accessible to each and every child in our schools. Cumann na mBunscol is a key link between our primary schools and the wider GAA com- munity. We look forward to continuing to participate in this truly valuable association.
Schools Competitions
School
Boys Football, Camogie, Mini Sevens
Web
School Website
Comments are closed.